ABOUT THE COMPANY

Conservator Daisy Craddock specializes in the treatment and preservation of 19th Century, early modern and contemporary paintings. She opened CPC in 2005 with a commitment to providing museum quality treatments, along with exceptional service and skill. The firm also provides on site treatment of large scale paintings, murals, and historic interior finishes. As Principal Conservator, Ms. Craddock brings over two decades of experience to the company.  She is a Professional Associate of AIC, and conservation treatments adhere to the AIC Code of Ethics. 

This small and discreet firm provides a wide range of conservation services for both private and public collections, and is conveniently located in Soho, New York City. Ms. Craddock personally carries out work on all smaller paintings in the conservation studio. She also collaborates on the aesthetic reintegration of artworks for other conservators in the NYC area. Large scale works are treated on site, thus avoiding unnecessary risk in transport. Upon request, Ms. Craddock can assemble a team of colleagues from throughout the conservation field for large scale on site projects.

With over ten years of experience in the field, Ms. Craddock's daughter, decorative painter Georgia Elrod, collaborates with the company on the conservation of historic decorative finishes. The CPC studio is open by appointment only.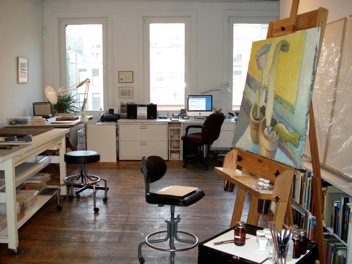 Facilities

Situated in lower Manhattan, the CPC studio has keyed elevator access. Windows are coated for UV protection and provide excellent light for working, in combination with color corrected artificial lighting. The CPC studio is climate controlled and protected with a UL listed Central Station alarm system and additionally secured storage space within the conservation lab.

Daisy Craddock apprenticed with Rustin Levenson (1985-1989) and studied organic and inorganic chemistry at Hunter College, NYC (1989-1990). She holds a BA in Fine Arts from Rhodes College and an MFA from the University of Georgia. Ms. Craddock was previously an Associate Paintings Conservator with Rustin Levenson Art Conservation (1989-1995) As a Paintings Conservator with Cranmer Art Conservation, Ms Craddock, specialized in the treatment of modern and contemporary paintings for ten years (1995-2005) She is also an artist in her own right with over twenty five one-person shows to date. Craddock CV 2012.pdf  To see Daisy's painting web site go to http://www.daisycraddock.com

Georgia Elrod has been collaborating with CPC since 2005. She holds a BA in Fine Arts from Colorado College and an MFA in Painting from Hunter College. In addition to her work as a conservation technician, she heads up CPC projects restoring historic decorative finishes. Georgia also has her own decorative painting business, and works with leading interior decorators and architects in the New York City area. For more information please visit www.gldecorativefinishes.com

                                                      Copyright 2018 Craddock Painting LLC, all rights reserved.